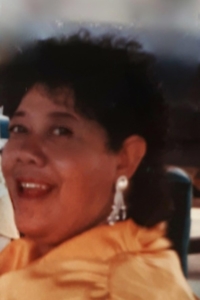 Ersline Anderson was born on September 22, 1938 in Forrest City, Arkansas, and was the 2nd child and 1st daughter born to Joe Nathan and Lizzie Mae Anderson. The family moved shortly thereafter to Omaha, Nebraska where Ersline would be a lifelong resident. She attended Webster and Kellom Elementary Schools and Technical High School. Ersline met and later married Joseph Marion on October 7, 1956 and they had 8 children.
Mrs. Marion fondly called "Dolly" and her husband, fondly called "Joe" were established residents of the community and valued neighbors. They opened their home to anyone in need and known for providing huge meals for welcomed visitors from all walks of life. None could beat, and maybe few could match her baking cakes and sweet potato pies. Everyone knew Mrs. Marion, from being the best daughter, wife, mother, grandmother, great grandmother, great-great grandmother, sister, aunt, niece, cousin, friend, and homemaker to one of the best beauticians in this city. She had so many skills with range. She could lay carpet and tile, paint, wallpaper, stain cabinets, garden, and take one look at you and buy clothes with shoes to match and fit! One could truly say that she used her hands to bless God's children. Additionally, Ersline was "Granny Dolly" to many daycare children and even had her own daycare for several years.
She doted on her family and was extremely protective of her children and their children. She loved them so much and often said, "I got some good kids"! She and her husband became foster parents, and she would purchase all sorts of items for anyone in need. God gave her the spirit of giving and sharing and she walked in her purpose with boldness and gladness.
During Ersline's early life she attended the family's home Church, Robinson Memorial COGIC. She accepted Jesus Christ as her Lord and Savior, and served her Church under the guidance of her uncle, Bishop James Anderson, Pastor of The Church of God in Christ Congregational. She served under several other Churches, including, The Church of God of Prophecy. She was the Church Mother, a title held and duties performed, bringing Glory to God. Her membership was with New Jerusalem Ministries and she also attended Believers Fellowship Church. Mother Marion loved God and she loved His Church and His people. She was loved, and will be sorely missed.
Mother Marion was preceded in death by her grandparents, her parents, Joe N. Anderson and Lizzie M. Anderson-Curry; husband, Joseph Marion; son, Ronald Lee Marion; grandchild, great grandchildren; brothers, Jackson and Vernon Anderson; sister, Bobbie Fulton; uncles, aunts. To cherish her memories, she leaves her son, Bobby Marion; daughters Jo Walton (Harold), Toni Williams (Reginald), Cheryl Johnson, Armalene Kercheval, Regina Hurt, Patricia Marion; bonus son, Billy Combs;17 grandchildren; 15 great grandchildren; 6 great-great grandchildren; brothers, Williams Anderson (Cheryl), Joe Anderson (Carolyn), Louis Anderson; sisters, Andrea Anderson-Lucas (Bobby), Barbara Hill (Ben), Nelva (Dan) March; and a host of nephews, nieces, other relatives, friends; and very special Sister Friends and Church Mothers.
VISITATION: Tuesday, January 18th from 11am-12pm at Roeder Mortuary, 4932 Ames Avenue
HOMEGOING SERVICE: Following visitation.
INTERMENT: Mount Hope Cemetery, 7602 Military Avenue
(Due to covid restrictions, MASKS ARE REQUIRED!)
https://roedermortuary.com/wp-content/uploads/2022/01/28055-Marion.jpg
885
591
Brian Roeder
https://roedermortuary.com/wp-content/uploads/2019/06/roeder_logo_white.png
Brian Roeder
2022-01-14 13:38:27
2022-01-14 19:38:38
Ersline Marion