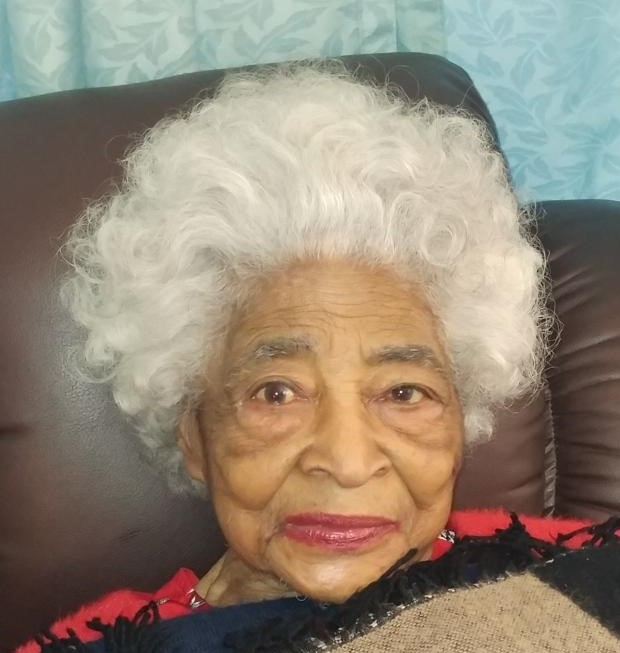 Sunrise: September 28, 1924 Sunset: September 8, 2019
Visitation: 5:00 to 7:00 PM Friday, September 13, 2019, Roeder Mortuary, 4932 Ames Ave., Omaha, NE Funeral Service: 9:00 AM Saturday, September 14, 2019, Roeder Mortuary, 4932 Ames Ave., Omaha, NE Interment: Mt. Hope Cemetery, 7602 Military Ave., Omaha, NE.
Mae Della Tarver, often known fondly as Mema by her grandchildren, was born in Columbia County in Camden, Arkansas September 28, 1924 to the late (King) David Sherman and Ardie Rogers Sherman. Mae went to be with the Lord on September 8, 2019 at the age of 94. (She attributed her long life to "Good Genes"). She was educated and attended school in Emerson, Arkansas.
Mae had a happy childhood growing up in Arkansas and her favorite thing to do was learning to ride Grandpa's horses and milk the cows. Mae attended elementary and middle school in Emerson. Although she desired to further her education, there wasn't a (Negro) high school in the area for her to attend. She did not allow this to halt her dreams. The Board of Vocational Nurse Examiners (BVNE) was created in 1951 and the first licensures from this board were granted by waiver, based on experience and physician affidavits. From this board, she was granted her LPN License based on her work experience and exemplary skill set. Mae worked at St. Joseph Hospital for many years serving others.
In August of 1944, Mae relocated to Omaha, Nebraska. She was united in marriage to Howard William Tarver on February 13, 1957 and from that union 6 children were born.
From a previous relationship, she had one son.
Mae has left a tremendous legacy with 7 children, 16 grandchildren and 19 great-grandchildren.
Mae could be described as a strong and spirited woman. She probably gained these attributes from her African, Native American, and Irish heritage. She loved life! She loved to dress and wear her fancy hats. She spoke with authority. She had several sayings that she loved to share: "If you don't like my apples, don't shake my tree"; "You can lead a horse to water, but you can't make him drink"; "You can send a boy to college, but you can't make him think". Although, Mae never learned to drive, she was able to use public transportation with finesse or often would call a Jitney to take her on her errands.
Mom was a member of Robinson Memorial Church of God in Christ and committed her life to Christ as an adult. While living at St. Joseph Villa Nursing Home, she rededicated her life to Christ. Mom loved to sing spirituals and hymns, not to mention on occasion create her own songs in the blues style.
Mae leaves to mourn her children Conrad McSwain of Omaha, Suzanne Tarver Vincent (James) of Harvey, LA, Howard Tarver, Barbara Burkhalter, Milton Tarver (Lisa) of Omaha, John Tarver of Dumfries, VA, and Caroline Tarver of Austin, TX; 16 grandchildren, 19 great-grandchildren; siblings Luvenia Sanders and Margaret Rose; nieces, nephews, and many other relatives and friends.
Mae was preceded in death by her husband, Howard W. Tarver; her parents, Ardie & David Sherman; and a Brother Tradis Sherman.
https://roedermortuary.com/wp-content/uploads/2019/09/26705-Tarver.jpg
653
620
Brian Roeder
https://roedermortuary.com/wp-content/uploads/2019/06/roeder_logo_white.png
Brian Roeder
2019-09-11 02:54:36
2019-09-11 20:41:59
Mae Della Tarver