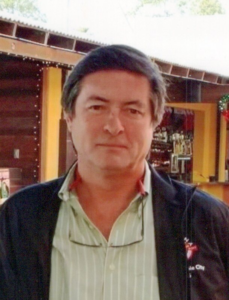 Our beloved Paul was born in Lincoln, NE to parents Kenneth and Dorothy Jensen (Shaffer) on December 26, 1958.  During his younger years, Paul moved where his father's U.S. Air Force orders sent the family including Altus, OK; Bellevue, NE; and Gretna, NE.  Paul enjoyed participating in Boy Scouts where he ultimately earned the prestigious badge of Eagle Scout at the unprecedented age of 13.  Paul graduated from Omaha South High School in 1976 where he played quarterback for the football team.
Paul married Sandy Montalbano in Omaha, NE in 1993 and was proud of the resulting addition of stepson Kevin Lesac.  In 1996, daughter Erin was born.  Paul loved telling stories of Kevin and Erin as they grew up whether it was Kevin's love for cars or Erin wearing different outfits and dancing.
While growing up in Lincoln, NE, Paul enjoyed living near Memorial Stadium where he sold parking spaces in the family front yard for Saturday gamedays.  While living in Altus, OK, the Jensen household was perhaps the only one in Oklahoma in the 1970's with loyal Husker fans displaying Paul's "Go Big Red!" sign in the front yard.
Paul was always fascinated by aircraft after growing up around the Air Force and had jobs working for airlines such as Air Atlanta, Braniff, Midway and TWA.  Paul's travels for the industry he loved took him to Atlanta, GA; Kansas City, MO; Little Rock, AR; and Phoenix, AZ.  While working for the airlines, Paul returned to college determined to and ultimately earning his Bachelor's Degree from UNO.  Early on, Paul's airline career took many unexpected turns where several of the airlines he worked for changed hands or went bankrupt.  Paul's encouragement to others for a positive attitude and perseverance for victory, just as he always displayed in his confidence in his beloved Nebraska Cornhuskers being capable of pulling out a win in the fourth quarter of a football game, shined through in his own life when working through many airline bankruptcies his dedication and perseverance earned him a position with Southwest Airlines.  Paul started at the bottom at Southwest quickly climbing the ladder over the years where he eventually served as Station Manager for the majority of his career in Little Rock, AR, and eventually Omaha, NE where he was very proud to have led his team to a Station of the Year award.  Paul served on several local boards including representation with Millard Public Schools and the UNO Aviation Institute.
Survived by many nieces and nephews who all enjoyed their Uncle Paul's willingness to jump in and play games including his self-proclaimed annual Thanksgiving "Turkey Bowl," a game of family street football whether rain, shine, or snow.  It did not matter how cold it was outside, Uncle Paul was organizing a friendly but intense family sport!  And, who could forget being up by two points when Uncle Paul's famous "hook shot" from behind the 3-point line took off and landed smoothly ending the game with a PJ comeback and his shouting, "Swoosh!  Did you see that hook shot?"  Uncle Paul never forgot a birthday and could often be found on the greens golfing, proud to have had a witnessed Hole In One!  Paul also enjoyed keeping in touch with many of his closest friends, including Tim Holland whom he went to school with and enjoyed various get togethers including their pheasant hunting together.  You will be missed, Uncle Paul, but some of your traditions will live on with all of us whom you played so hard with.
Survived by daughter Erin Jensen, stepson Kevin (Ashley) Lesac, and their mother Sandy Jensen (Montalbano); sisters Patricia (Wade) Tysdal and JoAnn Stenglein; brother Jimmy (Debra) Jensen; and fiancé Kellie Boston, and her children and grandchildren; many nieces and nephews.  Preceded in death by his parents, Kenneth and Dorothy Jensen (Shaffer); sister Debra LaBar (Jensen); infant brother Anthony; brother-in-law Ben (Joan) Stenglein.  Paul graduated from Omaha South High School in 1976 and was a retired 30 plus year employee of Southwest Airlines serving as Station Manager for several years in Omaha, NE.    VISITATION:  Saturday, August 13, 2-4, at Roeder Mortuary 11710 Standing Stone, Gretna, NE.  Memorials to the University of Nebraska Foundation with memo to:  UNO Aviation Institute Fund 01121400.
Roeder Mortuary, Gretna Chapel
11710 Standing Stone Gretna, NE.
402-332-0090 www.roedermortuary.com
https://roedermortuary.com/wp-content/uploads/2022/08/28332-Jensen.png
797
608
Brian Roeder
https://roedermortuary.com/wp-content/uploads/2019/06/roeder_logo_white.png
Brian Roeder
2022-08-04 08:09:18
2022-08-04 13:13:51
Kenneth (Paul) Jensen