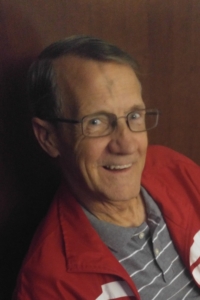 Ed Thamer was born on August 28, 1948 to Edwin (Allen) Thamer Jr. and Mary Elisabeth (Mann) Thamer in Pueblo, Colorado. He grew up in Cheyenne, Wyoming. 
Ed was an active member of St. Mark's Episcopal church and a band called The Venturas.  Ed graduated from Cheyenne East High School in 1996.  Then he attended the University of Wyoming in Laramie.
Upon graduation he accepted his first teaching job in Springview, Nebraska.  After his first year he decided to enlist in the military.  However, upon completing the physical he was given a medical deferment.  He then returned to Springview to teach.  
In 1973 Ed moved to Sargent to teach instrumental music and eventually vocal music as well.  He also coached girls' basketball and the golf team.  It was in Sargent that he met Carol Fries, a fellow teacher.  They were married on July 29, 1976.  A date they shared with his parents, sister, and brother.  To this union a son Edwin (Allen) Thamer IV was born.
In 1991 the family moved to Broken Bow.  They were members of the United Methodist Church.  Ed also enjoyed playing in the Shriners and Beechville bands. Ed's teaching career in music and computer technology lasted 42 years. He touched the lives of students in Springview, Sargent, Ansley, Taylor, and Anselmo-Merna Public Schools.  Ed retired in 2012.
In 2014 Ed and Carol moved to Gretna to be closer to Allen, Laura, and the grandchildren. His love of music and technology never left him.  He was an avid reader and enjoyed watching football.  Living closer also allowed for frequent sleepovers with Jackson, Kylie, and Brooklyn.  It also provided him the opportunity to attend Allen's games when he was coaching girls' basketball.  He really enjoyed going to all the daycare and school programs, dance recitals, soccer, volleyball, football, and basketball games that the grandchildren were involved in.
He was preceded in death by his parents, Allen and Mary Liz, sister Nancy, and brother-in-law Eddie.  He is survived by his wife Carol of Gretna, son Allen (Laura) Thamer of Omaha, and grandchildren Jackson, Kylie, and Brooklyn.  Brother Richard (Janie) Thamer of Boise, Idaho, brother-in-law Arthur West of Bedford, Texas, sisters-in-law Karen (Ray) Hunt of Merna and Linda (Jerell) Ward of Lincoln, and 11 nieces and nephews.
Ed is loved and will be greatly missed by all who knew him.
Interment of the cremains will be at a later date.
Visitation Thursday 11/18/21 from 5:00 – 7:00 PM at Roeder Mortuary,  11710 Standing Stone, Gretna, NE. Funeral Service 2:00 PM Friday 11/19/21, St. Paul Lutheran Church, 13271 Millard Avenue, Omaha, NE.
https://roedermortuary.com/wp-content/uploads/2021/11/Thamer-scaled.jpg
2560
1710
Brian Roeder
https://roedermortuary.com/wp-content/uploads/2019/06/roeder_logo_white.png
Brian Roeder
2021-11-16 16:54:16
2021-11-17 14:06:16
Edwin Allen Thamer, III