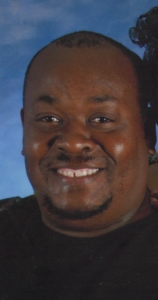 "Coach" Dennis E. Hopgood, Sr. AKA "Buster"
January 23, 1963 – January 9, 2022
Visitation: 10:00 AM to 11:30 AM Saturday, January 22, 2022 at Roeder Mortuary, 4932 Ames Ave.
Funeral Service: 11:30 AM Saturday, January 22, 2022 also at the mortuary.
Preceded in death by his parents, Conwell Hopgood and Lessie B Hopgood.
Dennis is survived by his wife, Lois Allen – Hopgood; son, Dennis Jr.; grandson, Clay Hopgood; adoptive daughters, Angel and Alexa Whitehall, sisters; Bernadette Patrick (Cedric), Aileen Warren (Thomas, Anita Hopgood, brother; Jeffery (DeAmber) Hopgood.
Dennis graduated from Omaha South High School; he continued his education at Morningside College.
After returning home from college, Dennis had a conversation with his uncle Leo Hollingsworth "I just don't want a job uncle Leo I want a career". Uncle Leo encourage Dennis to pursue an Engineering License through the City of Omaha Apprenticeship Program. While working at Roberts Dairy at nights, Dennis completed his classes during the day successfully earning his engineering license. A few months later Dennis was hired on at OPS as a Building Engineer.
Dennis was employed with Omaha Public School for 35 years and within those years Dennis was also a SEIU Chief Union Steward for 22.5 years. Dennis retired from both jobs in March 2018.
Dennis was the Founder of Omaha United Track Team, where we competed, against some of the top track and field teams locally and regionally. One of Dennis proudest moments was when Aries Phillips honored and recognize as Track Athlete of The Year.
Dennis, was truly family man our son DJ meant the world to him and he loved his nieces and nephew, Ced, Deidre, Bri, Nelle, Jay, Tom and Alexandra (Pie).
Dennis and I have been together for twenty-one years with eleven being married. We kept an ongoing tradition of dedicating meaningful love songs that reflected our love, togetherness and devotion, but must importantly the fun of being spiritually committed to loving each other in the eyesight of God, family and friends. Today is not just a memorial for Dennis, you all have been a part of our beautiful love story.
Lois Allen-Hopgood
https://roedermortuary.com/wp-content/uploads/2022/01/28043-Hopgood-Blowup.jpg
2477
1919
Brian Roeder
https://roedermortuary.com/wp-content/uploads/2019/06/roeder_logo_white.png
Brian Roeder
2022-01-21 09:55:55
2022-01-21 15:56:08
Dennis Earl Hopgood, Sr.