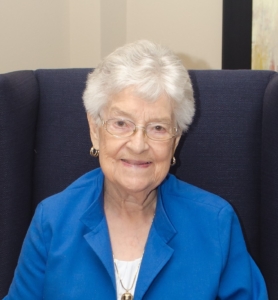 Delores Mae (Lind) Thorell was born on August 5, 1927 in Cedar County, north east of Wausa, Nebraska to William and Victoria Lind. She grew up on farms in the Wausa area with her sister, Wilma, and brothers Virgil, Loren and Gordon. She was baptized in Thabor Lutheran church on October 22, 1927 and was confirmed at Thabor on June 1, 1941.
Delores was a good student and went to country schools in the area and later boarded with families in Wausa so she could attend High School. She played clarinet in the band, played piano and sang in glee club and church choir.
Delores met her future husband, Floyd E, Thorell Jr. in Sunday school at Thabor. They married March 1, 1944 at her parents' home and were married for over 64 years until his death August 29, 2008.    March 1945, toward the end of WWII, Floyd went to the Navy. During his service in the Navy, she learned to live on $90 a month while he got to keep $20 and she saved money to buy their first furniture. They were blessed with six children, two sons and four daughters. Delores was busy and energetic.  She taught herself to sew and later taught herself to drive so her children could take part in church and school activities. She enjoyed playing games and spending time with friends and family and served many meals to bring people together.
Delores was an active member of Thabor Lutheran Church in Wausa for 77 years and then moved to Omaha in 2004 and joined St. John's Lutheran Church in Bennington. At both churches she was a member of the women's groups and the quilting groups, At St. John's she was active in Cooks 4 Christ.   She held many leadership and committee positions. Her faith kept her strong.   She was also an active member in the VFW Auxiliary in Wausa.
She made many embroidered dish towels and quilts for her family and for charities. Her quilt squares and stitches were filled with loving thoughts.  She especially enjoyed every grandchild and great grandchild and tried to take part in as much of their lives as she could.
Delores moved to Ridgewood Independent Living in March of 2014.  She was called home on June 4, 2021 at Ridgewood, Bennington, NE.
Delores was preceded in death by her loving husband, Floyd E. Thorell, Jr., son David, daughter-in-law Sandy and step-grandson Chad Reineke.
She is survived by her son William "Bill" (Julie) Thorell ; daughters Sharon (Nelson) Newman, Joan (James) Schwien, Yvonne ((Rodney) Bardwell and Eileen (Dennis) Cutler: daughter-in-law Helen Thorell. and many loved grandchildren and great grandchildren.
Delores was a blessing to her family, her church and her community. A life well lived.
A celebration of life service will be held on Friday, June 11th, at 10:30 AM at St John's Lutheran Church 302 Molly Street Bennington, NE with visitation one hour prior to the service.  A graveside service will follow at 4:00 PM at the Lutheran Cemetery in Wausa, NE.  In lieu of flowers, please send memorials to St. John's Lutheran Church in Bennington, NE or Thabor Lutheran Church in Wausa, NE.
Roeder Mortuary 2727 N 108th Street Omaha, NE 68164
402-496-9000  www.roedermortuary.com
https://roedermortuary.com/wp-content/uploads/2021/06/27678-Thorell-3.jpg
1432
1328
Brian Roeder
https://roedermortuary.com/wp-content/uploads/2019/06/roeder_logo_white.png
Brian Roeder
2021-06-07 12:04:18
2021-06-07 20:08:54
Delores M. Thorell