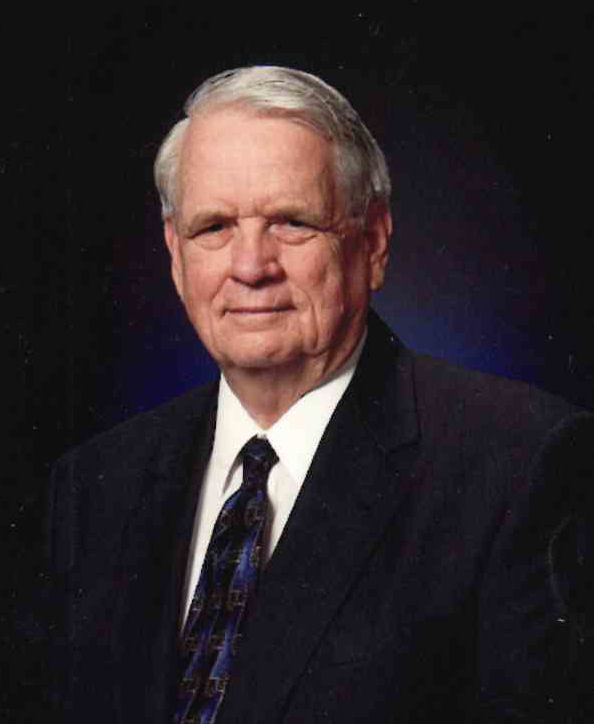 Aubrey H. Reed, age 85, of Omaha, Ne. passed away Friday morning, January 24, 2020 at home. He is now with His Lord and has the answers to many of the questions he often pondered. Aubrey was born May 23, 1934 in Des Moines, Iowa.
Aubrey grew up in rural Winterset, Iowa with his 3 brothers Rodney, Norman and Dennis. To hear tell, the four boys were a wily bunch, but always knew there were limits to their escapades. His childhood years were difficult as his family was very poor. Aubrey and his brothers found ways to entertain themselves in the country with few toys and used their imaginations to the fullest, walked 2 miles (uphill both ways, in a blizzard) to school, performed the mandatory chores and kept a sense of humor. Aubrey was the class president of his graduating class at Indianola High School.
His mother pushed for her boys to continue their education after high school and all 4 did. Aubrey hitchhiked and caught rides from other students to attend Iowa State. His initial goal was to be an extension agent. During this time, he learned that if he joined the military they would help pay for his education. He joined the Army in 1954 and proudly served his country. He completed his basic training at Fort Chaffee, Ark and then went overseas to Germany. He was honorably discharged from Fort Ord, Ca. in 1956. He took great pride in his ability to bounce a quarter on his cot, with the best of them, while in the Army. Somehow, that skill fell away after his discharge. After completing his military service he continued his education and graduated from Drake University with a degree in accounting and was regularly on the Dean's Honor List.
In 1952 he met Marvel Wilson and they married July 8, 1956 in Carlisle, Iowa. They lived in Des Moines for the first years of their marriage where he worked at Northwestern Bell and was then transferred to Omaha. In 1963, while working for Mutual of Omaha, they were transferred to Seattle, Washington where their oldest daughter, Susan was born. In 1964 they decided to move back to the Midwest to be closer to family.
Aubrey then took a job with Metropolitan Utilities District and in 1965 the young family moved back to Omaha, Ne. where he would live the rest of his life. The first time the family moved to Nebraska, he fell in love with Husker Football. He enjoyed the Huskers so much, that he would often record the games and watch them later after he knew the outcome, in the hopes of preventing himself from a heart attack. In 1970, their second daughter, Jennifer was born.
With his intellect and analytical thinking, he would strive to understand how things worked on a deep and thorough level. This included everything and anything from engines to dams to running football plays to weather to the brain to faith to people to life and so much more.
With Aubrey's simple upbringing, he was not a person that needed or wanted for material things. He was a simple man that truly NEVER desired for more or better possession, he was content in what he had. However, he did like to have nice vehicles and would occasionally feel the need to test their speed and might have received some speeding citations, especially in his 69 Mustang.
He was the "pull my finger", belch the alphabet kind of guy and was proud of his results when doing so. Aubrey loved to give corny nicknames to the people he loved. He had many jokes, silly responses and found a way to incorporate humor into some of the most frustrating times and literally did so the day before he went Home.
"Gentle" is the word that so many use to describe this sweet and kind man. His life was not easy as he struggled with debilitating depression that was so intense that he was not able to work after 1974. He fought every day to have the motivation to get out of bed, shave and do the basic things that most take for granted. In a time where many sweep mental illness under the rug, he battled hard to try to overcome this cruel disease. He sought therapy, psychiatric care and medication to try to feel better. He was always willing to share his experiences in the hopes of helping others.
Because of his work in therapy, it gave him great intuition into human nature. He never wanted to hurt others through his words and actions. He was gentle in choosing what he said and how he said it (unless he was really mad, and then "all hell could break lose").
Aubrey had deep convictions for truth, morality, integrity and politics. He was the kind of man that could strike up a deep conversation with anyone and often did so. He profoundly loved his family, friends, the USA, Nebraska football and his pets.
He is survived by his Wife, of 63 years, Marvel Wilson Reed, Daughters Susan (Scott) Samuelson, Jennifer Reed, Grandchildren Natalie (Randy) Whisler, Staci (Brandon) Brenning, Lauren Reed and Chase Reed, Step Grandchildren Brittany Samuelson, Logan Samuelson and 3 Great Grandchildren Evelynn, Hunter, Audrie, and Brother Norman Reed, many in laws, nieces, nephews and friends.
Visitation, Friday, January 31 from 5:00-7:00 PM, Roeder Mortuary 11710 Standing Stone Dr., Gretna. Funeral, Saturday, February 1 at 10:30 AM, St. Thomas Lutheran Church 17007 Q. St., Omaha, Ne.
In lieu of flowers, the family requests that donations be made to the family to be used for: Hunter's Hope for Duchenne and DEGS, 10200 Stagecoach Rd, Hickman, Ne. 68372, in honor of his great grandson.
Roeder Mortuary 11710 Standing Stone Dr. Gretna, NE. 402-332-0090 www.roedermortuary.com
https://roedermortuary.com/wp-content/uploads/2020/01/26889-Reed.jpg
724
594
Brian Roeder
https://roedermortuary.com/wp-content/uploads/2019/06/roeder_logo_white.png
Brian Roeder
2020-01-28 02:20:56
2020-01-29 14:51:21
Aubrey H. Reed