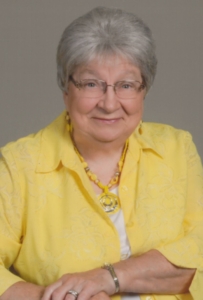 10/1/1936 – 5/2/2022
Gretna – Vonda Lou (Boyd) Conant
Vonda was born October 1st, 1936 to Lillian and Russel Boyd in Belgrade, NE.  She was raised on family farms and attended country school in Cedar Rapids.  She would often tell stories of life on the farm growing up with her 6 siblings.  One of her favorite stories to share about her childhood was when her and her younger brother, Arnie, played doctor in the barn and he chased her with scissors as he tried to "operate" on her.  In her attempt to escape she fell from the hay loft, but miraculously did not endure any serious injuries.  She always said he was the ornery one of the bunch!  Vonda graduated from Cedar Rapids High school in 1954.  Following graduation, she attended Wayne State college where she obtained a teaching certificate and then went on to teach country school for two years.  As a young and ambitious woman, she decided to move to Omaha where she began working at Brandeis Department Store with some close friends.  Vonda later met the love of her life, Jim Conant, in the fall of 1954.  The two were set up on a blind date by Jim's sister, Caroline and quickly fell in love.  Vonda moved to Columbus to be closer to Jim and began working for BD, making needles in their factory.  After a year of dating, Jim proposed.  The couple married on June 19th, 1956 in Cedar Rapids at St. Anthony's Catholic church.  Following the wedding, Jim proudly pulled Vonda down main street in a little red wagon to show off his new bride.  After they married the couple settled in Genoa and welcomed their first child, Patty, on January 14th, 1959.  Just over two years later their son Dick was born on March 3rd, 1961.  Mary came on November 5th, 1962 and finally Eddie on November 23rd, 1966.  Jim's trucking job transferred him to Omaha so they moved their family to Gretna where they would plant their roots and watch them grow.
Vonda was very active in her children's activities.  She served as a den mother, girl scout leader, pep club sponsor, and softball coach to name a few.  Her children's friends would often call her "mom" as she truly was a mother to all.  She was very involved in the community and St. Patrick's parish.  She belonged to the Starlighters, the women's altar society, and she was a news reporter for the Gretna Guide. She was also active in the local Legion.  Vonda worked at Schering Plough for almost 20 years where she packaged medicines and eventually took a job with Gretna Elementary school working alongside her husband.  This would allow them to see their grandchildren every day, they were their pride and joy!
After retiring Vonda and Jim enjoyed traveling in their fifth wheel to various sites.  Vonda loved camping, bird watching, and flowers.  She would construct priceless memories for others through scrapbooking for all of her family and friends to enjoy.  She loved lottery tickets and scratch offs. She loved her cross stitching even when her hands no longer allowed her to stitch the way she once could.  Vonda enjoyed family history and created numerous family trees and traced back family through several generations.  She wore many hats over the years with her favorites being a mother, grandmother, and lastly Mimi to the great grandchildren.
Finally, Vonda was woman of faith.  She converted to Catholicism at a young age.  Weekly and daily masses were important to her.  She always prayed for others before herself.  She greeted family and friends at mass with a kind wink and warm smile.  She reminded us all that it was her faith that got her through the trials and tribulations of life.  She tried to live her life like Jesus.  Her doors were always open to take in weary family and friends in need.  She always made sure there was room at the table and a warm bed to sleep in. She made everyone in life feel so incredibly special, especially her children, grandchildren, and great grandchildren.  She was the families rock, the light in the dark, she brought hope when things seemed hopeless, and bestowed her love upon all who knew her.  It is hard to think of a world without Vonda, but there is peace knowing she is with our Lord and all those who have gone before her.  She will truly be missed by all.
Vonda is preceded in death by her husband Jim, son Richard Allen, great grandchildren Maddie and Walker Buckman, brothers John, Melvin, Alfred, Arnie, sisters Leona Heft and Donna Fleck, and parents Russel and Lillian Boyd. She is survived by children Patty (Mark) Hotz, Mary (Greg) Jones, Ed (Lori) Conant, sisters in law Caroline Frederick and Beverly Boyd, brothers in law Richard (Kathy) Conant and Dick Lorence, grandchildren Valoree (Aaron) Stuhr, Mark (Erin) Hotz, Alex (Jon) Moore, Lindsey (Jerry) Buckman, Shelby (Garrett) Bolander, Dillon Jones, Beau Conant, great grandchildren Corbin, Aiden, Jaxon, Ellie, Henley, Cora, Carter James, Elsie, Maryn, and baby Korie, along with many family and friends.
Visitation Monday 4:00 – 6:30 PM with Vigil Service 6:30 PM at church. Funeral Service 11:00 AM  Tuesday (5/10/22)  at St. Patrick Catholic Church 508 Angus St. Gretna, NE. Memorials to the family.
Roeder Mortuary, Inc. – Gretna Chapel
11710 Standing Stone – Gretna, NE
402-332-0090 www.RoederMortuary.com
https://roedermortuary.com/wp-content/uploads/2022/05/28221-Conant.jpg
1842
1247
Brian Roeder
https://roedermortuary.com/wp-content/uploads/2019/06/roeder_logo_white.png
Brian Roeder
2022-05-04 07:28:02
2022-05-07 13:12:40
Vonda L. Conant