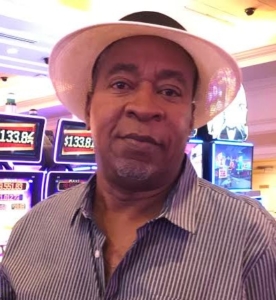 Life Reflections of
Rondo Avant
March 11,1960 – August 29,2020
A time to be Born: Rondo Avant, was born on March 11, 1960 in Omaha, Nebraska to the parents of Henry C., Avant Jr. (Donna Avant-Stepmother) and the late Wilma Avant (Mother) both from Omaha, Nebraska.
A time to Wed: Rondo was united in holy matrimony to Sheila R. Avant, on December 18, 2011 and happily married for the past nine years and has been together for the total of twenty-two years. Rondo and Sheila enjoyed traveling and weekend getaways and rides to the casino.
A time to Reflect: Rondo enlisted in the United States Army ranked as SP4 and served a little over five years where he was a substance supply specialist. He was awarded an army service ribbon. After retiring from the armed services Rondo was a harder worker and a dedicated husband, father, uncle, and grandfather. Rondo loved promoting education he would give money to children with good grades.
Rondo attended Dominican High school in Omaha, Nebraska. He loved being around his grandchildren, taking long rides in his Grand Jeep Cherokee, he enjoyed shopping at Walmart and Bakers and had a passion for music.
A time to be Reborn: Importantly Rondo journey led him and his family to Believers Fellowship Church,
located in Omaha, under the pastorate of Pastor Bobby R. Loud, Senior Pastor. Rondo made the faithful decision to get baptized in the Name of the Lord Jesus Christ.
Rondo would faithfully attend bible fellowship and was a regular worshipper on Sunday Services. Despite his health challenges Rondo would push his way out to service just to be a part of services.
Rondo leaves to his memory his wife Sheila Avant, his two sons Rondo of Omaha, Laron (Jasmine) of Colorado; daughter Antoinette (Michel) of Elkhorn; two stepdaughters LaTia and LaTreia (Tawaukee) of Omaha; two brothers Reggie of Omaha, Kelly (Tracy) of Colorado; two stepbrothers Robert and Calvin of Omaha; one sister Gina of Omaha; two aunts Thelma, and Velma of Omaha; grandchildren Kelis, Kaiden, Kensyn, Keyona, Madeleine, Ava and Amir, step grandchildren ShaTia, TaShawna, William, Shakynzy, Tawaukee Jr. Omarion, and TeAunna. One uncle Anthony of Omaha and a host of nieces, nephews, and friends.
Visitation: 4:00 to 6:00 P.M. Wednesday, September 9th Roeder Mortuary, 4932 Ames Ave.
Funeral Service: 10:30 A.M. Thursday, September 10th also at the Mortuary.
Interment: Omaha National Cemetery.
https://roedermortuary.com/wp-content/uploads/2020/09/27238-Avant.jpeg
430
396
Brian Roeder
https://roedermortuary.com/wp-content/uploads/2019/06/roeder_logo_white.png
Brian Roeder
2020-09-05 09:55:34
2020-09-08 16:19:15
Rondo R. Avant