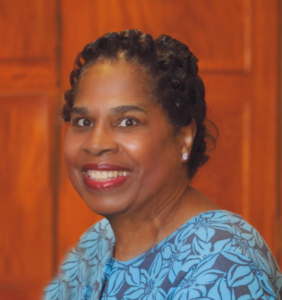 February 10, 1950 – July 15, 2021
Phyllis Doris Wilson, affectionately known as Baby Phyllis (in Texas) and Sarge (in Omaha), was born on February 10, 1950 in Kingsville Texas, and departed this life on July 15, 2021. Her parents were Frank Wilson Jr. and Margaret (Phillips) Wilson. She was the youngest of their 4 children, having 1 sister and 2 brothers.
She graduated from Henrietta M. King High School in Kingsville, TX in 1968. She received a Bachelor's degree from Texas A&I in 1972 and began her career as a chemist in Omaha, Nebraska. Phyllis subsequently was employed as an insurance underwriter with Mutual of Omaha and finally as a food inspector for the Douglas County Health Department. Phyllis served in the military (Air Force and Army) between 1975 and 1991. While in the Army she became a licensed Practical Nurse (LPN). She worked various short stints as an on-call shift nurse post her military career. In 1994 she completed the degree requirements for a MSA with a Health Services emphasis from Central Michigan University while Phyllis worked at the Douglas County Health department.
Phyllis was joined in Holy Matrimony to Mark D. Purnell on January 6, 1986 in Omaha. They raised a son, Ronald James Purnell and for one year she and Mark had the pleasure to guide the life of their foster daughter, Michelle McEwan-Forster.
Phyllis was a follower of the God of Abraham, Isaac and Jacob from her early youth. She grew up in Scott's Chapel United Methodist church in Kingsville, Texas and while in Omaha she worshipped and served the saints at Claire Memorial Methodist Church, Sanctuary Interdenominational Church, Freedom Church and Pacific Springs Assembly of God. Phyllis served the church in the capacities of a Sunday School teacher, Nursery Director, sermon prep assistant, small group facilitator, event coordinator, counselor to young women and offering a friendly word of encouragement.
She was a devoted wife and mother; a loving, kind and generous person. Phyllis didn't always filter her expressed thoughts but her words were always spoken with a sincere desire to being helpful to the listener.
Phyllis was preceded in death by her parents. She is survived by her husband Mark; siblings Phillip (Linda) Wilson, Dennie Wilson, Bettye Carter, all of Kingsville, TX; son Ronald Purnell (Irene) of San Antonio, TX; grandchildren Austin, Christian and Kira, all of San Antonio, Texas; a host of nephews, nieces, cousins, church family, friends and surrogate daughter, Ms. Athena Roberson of Omaha, NE.
Viewing: Thursday, July 22, 2021 from 5:00 pm to 7:00 pm at Roeder Mortuary – 108th Chapel. Private Family Graveside Service: Friday, July 23, at Prospect Hill Cemetery, 21901 West Maple Road, Elkhorn, NE. In lieu of flowers. please donate to the American Cancer Society, Nebraska Chapter.
Roeder Mortuary – 108th Chapel
2727 N 108th Street, Omaha, NE 68164 (402) 496-9000
https://roedermortuary.com/wp-content/uploads/2021/07/27736-Purnell-Crop.jpg
1502
1414
Brian Roeder
https://roedermortuary.com/wp-content/uploads/2019/06/roeder_logo_white.png
Brian Roeder
2021-07-15 12:13:15
2021-07-16 20:51:20
Phyllis Doris Wilson Purnell