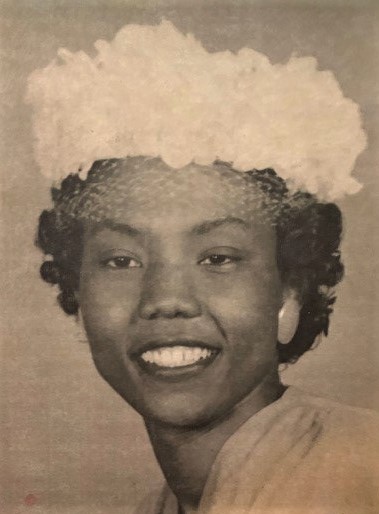 1931 ~ 2019
Pearline (Pearl) Burgess–Beal was the 2nd child, first daughter, born to Joseph and Selvie Guyden-Burgess. There were 13 children born to this union, in Clarendon, AR. Pearl attended Carver High School, in Clarendon also. She had one son, Larry Burgess. Her Love, Mr. Clifton Beal, met and courted her, when she was living on the Farm, in Clarendon. He later led the Family to Omaha, NE. Pearl's sister, Olivia Bray-Stewart and brother, Charles Burgess followed their Big Sis to Nebraska, the Heartland of America and land of opportunity, with the Packing House Industries.
During Pearl's Life of Great Grace, she attended Philadelphia Baptist Church, in Clarendon, AR; Freestone Missionary Baptist Church, Omaha, NE, where her husband, "Beal" and brother, Charles were on the Deacon's Board. Beal was the Chairman and Charles was the Co Chairman of the Deacon's Board. They both could really Sing, Pray and showed Strong Leadership. As a Widow, Pearl joined her Bro-In-Law's Church, Second Baptist Church, Omaha, NE (Pastor Harbert Stewart, Founder; and later, her Nephew's congregation, Pastor Nate Bray and Pastor Edna Perkins, Co Pastors of Jehovah Shammah Church, Int'l (The Lord is There). Pearl's favorite Gospel Songs were: "Amazing Grace" and "Near the Cross." She also liked Jazz – Louis Armstrong. Her favorite color was Pink. Pastor Edna was also Pearl's Hair Stylist. Pearl was very particular with who touched her hairJ Pearl was known as the "Lead DIVA" (Divine, Inspired, Victorious and Anointed) Woman of God. She LOVED Shopping, Dining Out and Traveling. She's still known for being very fashionable with her clothing, Ear Bulbs, Pocket Book, Jewelry, Bracelets, Rings… her Rocking, Big Smile, Winning at BINGO, generous giving and her saying "I Show Enjoyed It" (Southern Belle Style) along with her delightful Burgess GiggleJ
Pearl's husband worked for the City of Omaha and she worked for the illustrious Paxton Hotel. They lived in a fantastically beautiful home in the 1960's.
Pearl and her Sister, Olivia were very close, like Peaches and Cream. First Lady, Olivia and Pastor H. Stewart passed the Mantle to daughter, Beverly Bray-Thompson to be Pearl's Caregiver. Bev and her Family, graciously covered Pearl, for 27 years, with Great Joy. Bev hosted Christmas Dinner of which, Pearl was the last Elder of her Pack of Friends: Olivia, Pastor Stewart, Pastor J.D. Williams–Nephew, and Lorraine Thompson–Franklin's Mom, at the Table.
Pearl is preceded in death by her husband; Clifton Beal; both parents Joseph and Sylvie Burgess; Brothers – John and Charles; Sisters; Olivia, Ossie (Beatrice) and Doris. Those left to cherish her memory include her Son; Larry Burgess; grandchildren, great grandchildren; Brothers and Sisters; Betty Smith, Josephine (J.C.) Parrish, Mary (Lovie) Gray, Gloria Rhodes, James Burgess, Roosevelt Burgess and Irene Roberts; Niece/Caregiver, Beverly (Franklin) Thompson; and a host of nieces, nephews, cousins and other Family and Friends. Pearl was Always ready to "Go Home." She's Safe in HIS Arms.
Funeral Service: 11:00 AM Monday (11/25/2019) at Roeder Mortuary – Ames Chapel
Roeder Mortuaries, Inc, 4932 Ames Ave, Omaha, NE 68104 (402) 453-5600 – www.RoederMortuary.com
https://roedermortuary.com/wp-content/uploads/2019/11/Beals.jpg
514
379
Brian Roeder
https://roedermortuary.com/wp-content/uploads/2019/06/roeder_logo_white.png
Brian Roeder
2019-11-20 10:50:40
2019-11-20 22:52:56
Pearline "Pearl" Beal