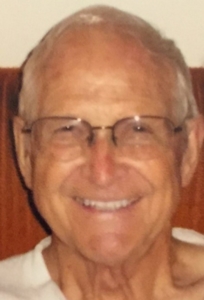 Neville (Neve) Glen Anson passed away peacefully at home on April 26, 2021 at the age of 91.  He was born in White River, SD on March 9, 1930.  He was the fifth of nine children born to Glen Marvin and Frances Marguerite Watson Anson.  He married Dorothy Marie Pfanstiel on December 27, 1950 at Immanuel Lutheran Church in Osmond, NE. They were married for 63 years before Dorothy's passing in 2014.  To their union were born 5 children.  He was a member of Mount Olive Lutheran Church.
Neve spent his early years in Johnstown, Royal & Osmond, NE. As a child, he often found fossils in the fields where he helped his family farm on what later was discovered to be the Ashfall Fossil Beds near Royal, NE. He was called to serve his country overseas in the Army in Korea shortly after he & Dorothy were married.
Neve's character was that of the greatest generation. Born at the beginning of the Great Depression, the work ethic he developed would accompany him beyond his 90th birthday, as he would continue to mow his own yard & clear his driveway of snow until he chose to move in with his son, Jeff. His frugality dictated his daily habit of wasting nothing & conserving all he could. That frugality, along with his personal discipline provided his children's security & well-being, as well as a comfortable life and retirement for himself & Dorothy.  Respect, consideration and generosity were always forefront in every relationship he had throughout his life. He was always willing to help, pitch in, or even gift support wherever his heart led him.  Neve was a true friend and a good neighbor and a wonderful father & role model to his children, grandchildren & sometimes perfect strangers.
Neve is survived by his daughter Neva Anson (Jack) Mielke and his sons Gregory (Paula), Mark & Jeffrey  Anson; his sister Alice Anson Mahood, sister-in-law Elizabeth Pfanstiel (Dwaine) Johnson, brothers-in-law Charles (Delores) Pfanstiel, & Grant (Charlene) Pfanstiel. Also survived by his grandchildren Joseph, Wendy, Makayla (Jon) Blake & Daniel (Emily) Mielke; Melissa Anson (Evan) Graff & Erik Anson; Clint (Beth) Osler, Ryan (fiancé Tori) & Connor (Morgan) Anson; Tom (Kari) Giles, Jeremy (Jill) Giles, Cassondra Anson (Jeff) Meyers, David (Alicia) Anson; great grandchildren Burklee Mielke, Lily Anson, Jackson Giles, Emalee Giles, Avery Clawson, Harrison Meyers, Larissa Prudhome, Isaiah Caldwell, Alexis Anson; 2 great great grandchildren, Kendall & Gracelyn Greenwood; and many nieces, nephews, friends, neighbors and loved ones.
Neve was preceded in death by his parents, his infant daughter Lynneva, mother & father-in-law, Harry & Emma Pfanstiel, his brother-in-law Dwaine Johnson; his brothers & sisters-in-law David (Lucy), Delbert (Phyllis) & Arvin (Ruth) Anson; his sisters and brother-in-law Audree Anson (Orville) Bahr, Lucille Anson & Rosalee Anson (Jerry) Taylor.
There will be a graveside service at Forest Lawn Cemetery, 7909 Mormon Bridge Road, Omaha, on Saturday, May 1, 2021 at 11 AM, with military honors.
Roeder Mortuary 108th Chapel
2727 N 108th Street Omaha, NE 68164
402-496-9000 www.roedermortuary.com
https://roedermortuary.com/wp-content/uploads/2021/04/27630-Anson-3.jpg
2048
1536
Brian Roeder
https://roedermortuary.com/wp-content/uploads/2019/06/roeder_logo_white.png
Brian Roeder
2021-04-28 11:01:41
2021-04-28 21:24:37
Neville Glen Anson (Neve)