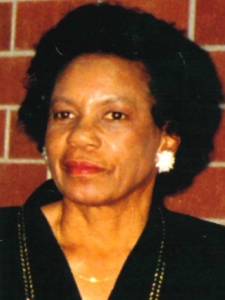 Mildred Lee was born on May 16, 1932 to the union of Adell and Square Clark, who preceded her in death.
She professed her love for Jesus Christ at an early age, she was   a member at  Lampkin Baptist Church in Pine Bluff Arkansas.
She graduated from Merrill High School in Pine Bluff Arkansas in 1951.
On April 22, 1954 the then Ms. Mildred Clark was married to Oudious Lee in Pine Bluff Arkansas. Shortly after their union they moved to Omaha, Ne where they where blessed with 4 beautiful children. Oudious Jr, Deborah, Carolyn, and Sharon Lee.
Mildred exhibited a strong work ethic and strong family values. In July of 1970 she graduated and was awarded completion of New Careers Training Programs  in the field of Human Services offered by the Concentrated Employment Program and the College of Arts and Sciences of Creighton University. She was immediately employed by the Nebraska Job Service. She fulfilled a full career at the Nebraska Job Service retiring after 21 years of employment.
In August 1971 her husband tragically passed away after suffering a severe heart attack. Mildred showed strength, resilience, and unmatched self discipline to raise her four children alone often working multiple jobs in order to provide for them. Ultimately working enough to send her two eldest children to the University of Nebraska in Lincoln. She would put her eldest daughter through Law School and her daughter would graduate 1982. In 1975 during the integration of the Omaha Public School district she became an advocate for the community, demanding that the school district provide buses for all of the children. She was able to organize the community parents and threaten a boycott. This pressure would eventually make the school district succumb to her demands.
Her advocacy with her community would continue in the late 80s and early 90s. She started multiple community outreach programs including the Fairfax Community Garden, Weed and Seed, and she would become the head of her neighbor watch. It is because of Mildred's efforts with the local and state government that smoking inside any public building is illegal, Mildred was the 1st woman to win the Spirit of Woman Award, she also won
North Omaha Young  Life Award  in 2002 among many other awards.
She leaves to cherish her memories, her four children Oudious, Deborah (Mitchell Pinkard), Carolyn, and Sharon Lee. She was preceded in death by J.C. Givens, Robert Clark, Fanny Mae Clark, Jessie Mae Traylor,  Alonzo Clark; she is survived by Janis Cox. She leaves behind 9 grandchildren, Crystal, Cami, Clifton Jr, Corey, LaVel, Diamond, Aaliyah, Malcolm, and Alexandria, 18 great grand children, and 2 great great grand children. And a host of other relatives.
Visitation – Monday, 10/12/2020, 4:00 – 7:00 PM at Ames Chapel.
Funeral Service – Tuesday, 10/13/2020, 11:00 AM at Ames Chapel.
Burial at Forest Lawn Cemetery
Roeder Mortuary, 4932 Ames Ave. Omaha NE 68104 (402) 453-5600
https://roedermortuary.com/wp-content/uploads/2020/10/27300-Lee.jpg
852
640
Brian Roeder
https://roedermortuary.com/wp-content/uploads/2019/06/roeder_logo_white.png
Brian Roeder
2020-10-09 12:37:07
2020-10-09 17:37:29
Mildred Lee