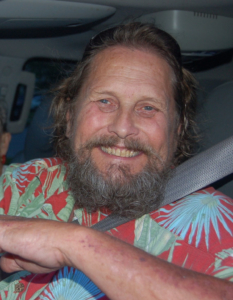 Kerry Alan Hill was born on October 4, 1951 in Wichita KS to proud parents Jack and Gloria Hill.   He was joined by two brothers Kevin and Kelly Hill.   They moved to Omaha 1964.  He graduated from Westside High School in 1969, there he met Linda Treat, they married and had two children Sarah and Tarah.  They moved to Gretna in 1975, shortly after Sarah was born.  Kerry received his Associates degree of Applied Science in Welding and Fabrication Technology and started his own construction company American Best Construction.   He was involved in many different projects in and around Gretna.  He left his mark – literally.   He was a fixture in the Gretna community.  He wouldn't pass up a chance to stop and have a conversation with anyone.
As life progressed he had some health challenges that forced him to retire earlier than he was ready.  He battled with a Sjogern's disease that caused deteriorating lung conditions.  Even through all of that, he managed to give a smile to everyone he met.
In 2014 he met Billie Goss, who would become a very important person in his life.  One of his most favorite titles was Boompa.  His grandchildren, Aubriana, Morgan, Madilyn and Logan thought the world of him.   He was always there with a goofy joke, silly song or an open ear to listen.
As a father, it's hard to put down on paper what he meant.  Growing up he was a strong supporter in everything we did, whether it was sporting events, show choir or theater.    He was always there to lighten the mood and make sure our friends knew that he meant business but would also be there if you ever needed him.  He had a strong faith that he showed us through his actions and love.  He was a wonderful listener and sounding board.  We can't tell you how many times we would be losing our minds and he could bring us down to reality.   He made those issues, that we thought were HUGE, more of a reality and that they were things we could handle.
Our dad was a lover of all types of music.  Some of his favorites were BB King, Jethro Tull,  Carole King, Al Green and many more.   He shared this love of music with everyone he talked to.  One of the other things we can't forget to mention would be his love for Minnesota.  He LOVED Minnesota, especially Lake Pokegama.  This love developed from an early age when his parents bought a cabin in Grand Rapids, on Lake Pokegama or lovingly called Lake Pokey.  He spent many wonderful summers there and shared his love of Minnesota with his children and grandchildren.  There will always be a part of him there.
In March, Dad took a trip to Arizona to visit his girlfriend, Billie.  Because of the Covid pandemic he was just enjoying his quarantine time with her there.  June 11, He was admitted into the hospital with pneumonia in Arizona.  He sent us a picture on the 12th wearing oxygen and a big smile.  He passed away on June 25 after his body gave all it could give.
We know that many people are impacted by the Covid Pandemic and were unable to be here today, especially his brother Kevin and girlfriend Billie.   We cherish the memories and know he was loved by many.
We imagine he's up in heaven driving on an open highway, windows down, sun shining, arm out, breeze blowing in his hair and belting out his favorite songs.
Preceded by parents Jack and Gloria Hill. Survived by daughters Sarah (Dennis) Secora and Tarah Pykiet; grandchildren Morgan and Logan Secora and Aubriana and Madilyn Pykiet; brothers Kevin (Mary) and Kelly Hill; friend Billie Goss. Family will be receiving friends Wednesday (7/1/2020) from 5-6:30 PM with celebration of life at 6:30PM at Roeder Mortuary, 11710 Standing Stone, Gretna, NE.
https://roedermortuary.com/wp-content/uploads/2020/06/Hill.jpg
1462
1137
Brian Roeder
https://roedermortuary.com/wp-content/uploads/2019/06/roeder_logo_white.png
Brian Roeder
2020-06-26 19:02:54
2020-07-01 21:56:01
Kerry A. Hill