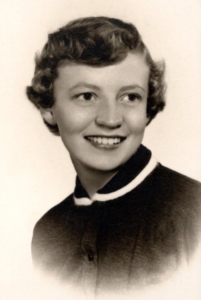 Karen Elizabeth (nee Rasmussen) Siefering, 82, of Hereford, AZ, passed away Sunday, April 4, 2021 at Hospice House in Omaha, NE.
Karen was born at home in Howard County, NE to Harold and Veola (nee Dethlefs) Rasmussen on June 17, 1938. After graduating from St. Paul High School, St. Paul, NE, in 1956, she attended the Lincoln School of Commerce in Lincoln, NE for two years. While attending school and living in Lincoln she worked at Memorial Stadium, cementing her position as a Cornhusker football fan. Karen then attended Dana College in Blair, NE for two years, after which she was hired by Bell Telephone Company in Omaha in 1961.
In 1962, Karen met Loren Siefering in Omaha. They were married April 28, 1963 in St. Paul, NE and continued to reside in Omaha. In 1968, shortly after the birth of their first child, Sonya, they moved to Clarinda, IA to farm. After two more children, Brian and Kirsten, were born, Loren and Karen moved to a larger house and farm in Villisca, IA in 1976. They lived in Villisca until they retired from farming in 2004. They then moved to Hereford, AZ to enjoy the warm weather and colors of the desert, building their own house with views of the mountains. Loren passed away in 2009 and Karen continued to live in their Hereford house until she became too sick with T-PLL, a rare form of leukemia. Karen had been treated for her cancer in Omaha in 2020, and entered hospice care in 2021 while staying with her daughter, Kirsten, in Gretna.
Karen loved being a mother and was very involved in her children's activities, especially as troop leaders for both Girl Scouts, Boy Scouts and 4-H. She always drove her kids to music lessons, sporting events and sleepovers. She found time for hobbies like oil painting, displaying and selling her paintings at local businesses. Karen loved baking and decorating cakes, producing amazing creations for family birthdays and also custom cakes for sale. She excelled at all things creative and enjoyed reading books. Receiving her admission into the DAR was one of Karen's proudest moments after doing the research to prove her line. Above all, Karen cherished her grandchildren: Bronte, Rafael and Ivye Beaudoin, Ingrid and Garrett Siefering, and Rowan Stern.
Karen was preceded in death by her husband, Loren, and brother, Alan Rasmussen.
Survivors include her children, daughter Sonya Siefering and her husband Jerreau Beaudoin of Waukegan, IL; son Brian Siefering and his wife Kelly of Livermore, CA; and daughter Kirsten Siefering and her husband Randal Stern of Gretna, NE; six grandchildren; brother Gary Rasmussen and wife Ana; brother Lyle Rasmussen and wife Carol; brother Paul Rasmussen; sister Jean Brown and husband Gordon; sister-in-law Janet (Siefering) Tribolet; sister-in-law Sharon Pedersen; and several beloved nieces and nephews.
The family wishes to thank the Fred and Pamela Buffett Cancer Center, VNA Hospice Care, and the Josie Harper Hospice House of Omaha. The family requests memorials be made to the American Heart Association (www2.heart.org), the Fred & Pamela Buffett Cancer Center (nufoundation.org) or the Villisca Theater Company, 100 S 5th Ave, Villisca, IA 50864.
Roeder Mortuary, Inc. – Gretna Chapel
11710 Standing Stone – Gretna, NE – 402-332-0090
www.RoederMortuary.com
https://roedermortuary.com/wp-content/uploads/2021/04/27601-Siefering.jpg
778
522
Brian Roeder
https://roedermortuary.com/wp-content/uploads/2019/06/roeder_logo_white.png
Brian Roeder
2021-04-06 12:08:58
2021-04-08 15:03:40
Karen E. Siefering