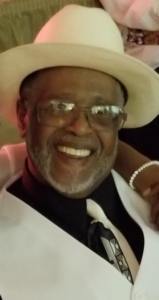 Sunrise  9/4/1946  ~  Sunset 1/4/2022
John L. Green was born to the late Johnnie and Bettie Green on September 4, 1946 in Black Hawk, Mississippi. John attended Kellom Elementary School and graduated from Technical High School. After high school, John worked for The Omaha Public Schools as a custodian until retirement.
John was member of Mt. Carmel Baptist Church where he sang happily in the Men's Choir. Anyone who knew John knew this about him – he loved family, music, cooking, traveling, making those around him laugh, smile, and sometimes frown.
John was the father of a blended family; together with Ms. Roberta "Bert" Atwater for 18 years, then married for 22 years. Their union lovingly cared for three boys and four girls.
John was an man of many words who was always "right." He was also an entrepreneur whose love for cooking led him on the path to open his restaurant, Lee's Sweets and More. Everyone knew about the famous catfish at Lee's Sweets and More. John's restaurant was the home of the Old School Breakfast Club for several years. Everyone in the family at one time or another worked as a volunteer employee at Lee's Sweets and More.
John believed in family structure and values. He did anything for his beloved family. He was a mentor to many. He would teach you anything from repairing a vehicle to building a house! We all know he how resourceful. He was and could make/build ANYTHING out of EVERYTHING. He could brighten any room he entered with his smile, Stetson hat and walking cane – let's not forget the jewelry! John loved fishing. He also enjoyed cooking fish for family and friends while hanging out in the back yard, listening to old music. A few of his favorite sayings were " One Day at a Time," and "Just Keep Living." Often times when you would ask him how he was doing he would respond by saying " I'm kickin' but not very high."
A few years ago he took on the title of cat owner, which did not make the wife happy! Oh how he loved his cats. He even built them a play area. He treated those cats as if they were his children.
He is preceded in death by his parents, Johnnie and Bettie Green, sister Hattie Green, and daughter Larina Green.
He leaves to cherish his memory, wife Roberta; three sons, Glen Green, Sherdale (Renata) Green, John Green; four daughters; Johnetta (Clifford) Green, Sharee (Jason) Bryson, Vernell (Jaynita) Atwater, and Precious Marshall; 22 grandchildren; 11 great grandchildren; brothers; Wille (Sharon) Green, Larry (Whitney) Green, sisters; Bobbie Davis and Mary Green. Special Friends Mike Kuhn, Lorenzo Davis, La Vern "Mr. Street" and Mr. Odell.
Funeral Service: 11 AM Wednesday (1/12/2022) with visitation 1 hour prior from 10 – 11 AM at Roeder Mortuary, 4932 Ames Avenue, Omaha, Nebraska. Burial at Mount Hope Cemetery, Omaha, Nebraska.
Roeder Mortuary, Inc. – Ames Chapel – 4932 Ames Ave – Omaha, NE – 402-453-5600  www.RoederMortuary.com
https://roedermortuary.com/wp-content/uploads/2022/01/28026-Green-e1641509074229.jpg
573
304
Brian Roeder
https://roedermortuary.com/wp-content/uploads/2019/06/roeder_logo_white.png
Brian Roeder
2022-01-06 16:42:03
2022-01-07 19:31:12
John Lee Green "Rooster"