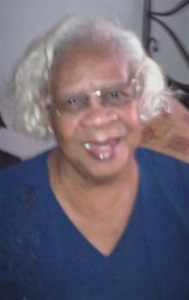 Jean was the oldest of 8 children of Evelyn and William Ford.  Her siblings were; Maxine, Salatha, Willie Joe, Raymond, Charlotte, John and Geraldine.  It has been said that Jeans middle name (Harlow) was the namesake of the late Jean Harlow who was a movie star back in the day.
Jean married Eddie Milton and together they had a son who was named after his mother; Gene Allen Milton.  Jean had a great love for her husband, son and children, her son was her pride and joy.
In the early years, the family came out of Topeka, Kansas and settled in Omaha, Nebraska.  Jean being the eldest in the family helped raise the younger ones.  We looked to her as our big sister.  She learned her life skills from her mother.  Her specialty was cooking, collard greens, beans, cornbread, neckbones and chitlins.  She could do it all.  Another skill of Jeans was "pressing hair".  There was no going to the hairdresser with 5 sisters.  On Saturday night you could smell the hair in the kitchen as the sisters got their hair pressed for Sunday morning church.  With this trade she learned at home she could have easily had her own beauty salon business.  Even the neighbor's children could be found up under Jeans hot comb.  She was noted in the neighborhood for helping other children.  Jean was very generous and sharing.
Just being around Jean made one feel good.  She liked people and made friends very easily.  She had a good sense of humor and loved to laugh even in demanding situations she makes you laugh.  Everyone in the family looked to Jean because she was our Big Sister.
Jean was a "Daddy's Girl" meaning that her and our other oldest sister, (Maxine) were my father's favorite.  They seemed to get away with things us younger children could not get away with.  They were allowed to do things that the younger children could not.  They would escape punishment when we could not.  However, the truth be told she was our favorite also.
Jean Harlow (Ford) Milton loved life and she lived it to the fullest.  She will be greatly missed.
https://roedermortuary.com/wp-content/uploads/2021/04/27611-Milton.jpg
522
329
Brian Roeder
https://roedermortuary.com/wp-content/uploads/2019/06/roeder_logo_white.png
Brian Roeder
2021-04-21 16:25:33
2021-04-21 21:25:50
Jean Harlow (Ford) Milton