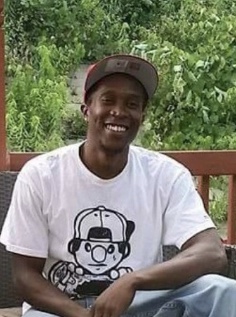 Edward Lee Swindle Jr., son of Stacey Green and Mose Howard Jr. was born November 17, 1986 in Omaha, Nebraska. He is survived by his fiancé and backbone of 17 years, Shaynelle Wofford and their two children: Edward Swindle III (E.J. 3,000) and E'Moni Swindle (Poota Butts).
As a child Edward, lovingly known as Ed or E-blocc, was rambunctious. He was always involved in sports, specifically wrestling. Eddie wrestled from age four to sixteen earning many championships. He was a people magnet, his friends and cousins always wanted to stay with him. Because of him, the family is extended with extra brothers and sisters his mother helped raise over the years. Ed and his father, Mose, developed a strong bond later in life. But the beauty in their relationship was not defined by time but by love, mutual respect, friendship, forehead jokes and recently winning spades tournaments.
Ed was a valued employee at the United States Post Office for six years. He was quite the charmer at his job, making many positive relationships with customers on his rural route. His supervisor notes, you always knew when Ed was around, you'd hear his music before you saw him. When he wasn't working, he could be found playing basketball, coaching his son, watching sports, and spending time with family and friends. He attended every practice and game of his son, E.J.
Those who knew Ed knew him as a man of honor. He loved peace and harmony amongst his family. You could always count on Ed for a good laugh, jokes, advice and good energy. He was a loyal and trusted friend. He had long-lasting friendships that turned into family. More than anything, Ed loved his family. He loved his fiancé, Shaynelle and was committed to a long-loving relationship with her. They were lovers and best friends. They grew up together and had an unbreakable bond. Being a father was his greatest joy; becoming a father changed his life. There was nothing out of reach for his children.
Ed was always a giver and a helper. In true form, his final act was to donate his organs to people in need. His legacy will live on through the lives of the people he was able to save and the lives of the people he loved. His beautiful life will forever be cherished by his fiancé Shaynelle Wofford; his children E.J. and E'Moni; his parents Stacey Green and Mose Howard Jr. (Lisa); his siblings Jermaine Green (Shatia), Mose Howard III, Morisha Brown (Derrick), and Lavonte' Howard; grandparents, fourteen nieces and nephews; and a host of loving family and close friends.
Visitation: 5:00 to 7:00 PM Friday, November 8, 2019 Roeder Mortuary, 4932 Ames Ave.
Funeral Service: 9:30 AM Saturday, November 9, 2019 Roeder Mortuary, 4932 Ames Ave.
Interment: Evergreen Cemetery, 2300 S. 78th Street.
https://roedermortuary.com/wp-content/uploads/2019/11/E.-Swindel.jpg
317
236
Brian Roeder
https://roedermortuary.com/wp-content/uploads/2019/06/roeder_logo_white.png
Brian Roeder
2019-11-04 21:45:18
2019-11-04 21:45:19
Edward Lee Swindle Jr.