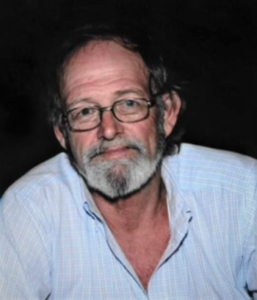 David A. Boeckman was born September 16, 1957, in Sacred Heart Hospital, Yankton, South Dakota. He was the first of five children born to Rudy and Betty (Brown) Boeckman. Dave grew up in Wynot, Nebraska, attending Wynot Public School and graduating in 1975. After high school he relocated to Norfolk, Nebraska and worked in Madison, Nebraska at the pork production facility there.
From the pork production plant, Dave moved on to work for his stepfather Lambert (Butch) Vrba for many years as a farmhand. This had the added benefit of access to wild game, which Dave loved.  He was a phenomenal cook, and could create all manner of wild game dishes as well as traditional breakfasts, cook for fish frys, and all kinds of dishes in between.
In 1987 Dave met Carlene Mathers. They relocated to Phoenix for a short time, then returned to Wynot where Dave ran his father's bar for a couple of years. He and Carleen moved to the Lincoln, Nebraska, area, where they eventually married and had four children. Dave found work in the area of his first interest, that of lawn and tree maintenance. He loved working with trees; he was able to tell a tree species by looking at a piece of bark or a leaf. He worked as a Lincoln city arborist until his health no longer allowed it.
Dave's health began to decline and he had to give up many of the pursuits that gave him pleasure in life. Relentless arthritis restricted much of his movement, and congestive heart failure began to take away his energy and ability to breathe normally. He had several trips to the hospital, always beating the odds, until the last one. Friday morning, April 30, Dave quietly and peacefully left this world to join his father and brother in Heaven.
Dave is survived by his children, Brandon (Natalie), Troy, Keesha (Nate Brooks), and Cole Boeckman, all of Lincoln, Nebraska; his mother; Betty Vrba of Wynot, Nebraska; brother; Brad (Dawn) of Lincoln, Nebraska; sisters; Lori Coffman of Yankton, South Dakota; Brenda Boeckman of Lincoln, Nebraska; and Kim (Patrick) Henry of Council Bluffs, Iowa; girlfriend; Vickie Stueck, aunt; Karen Melton of Omaha, Nebraska and a loving family of nieces, nephews, and cousins.
He was preceded in death by his brother; Steve, father; Rudy, stepfather; Lambert (Butch) Vrba, grandparents, 2 brother-in-laws; Greg Donner and Jeff Coffman, 6 uncles, and 4 aunts.
"The wheel in the sky keeps turning; don't know where I'll be tomorrow."
Visitation: 2:00 to 3:00 P.M. Saturday, May 8, 2021 at Roeder Mortuary, 4932 Ames Ave.
Funeral Service: 3:00 P.M. Saturday, May 8, 2021 also at the mortuary.
https://roedermortuary.com/wp-content/uploads/2021/05/27636Dave-Boeckman.png
408
350
Brian Roeder
https://roedermortuary.com/wp-content/uploads/2019/06/roeder_logo_white.png
Brian Roeder
2021-05-05 10:39:53
2021-05-17 17:54:50
David Anthony Boeckman