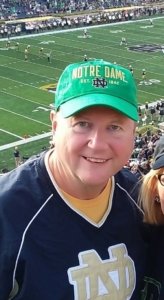 4/14/1956 – 8/29/2022
Important dates:  Baptism 4/1956 Confirmation – 5/10/1970
Mr. C to students, Dan to friends, Danny to friends and family, and Yogi, Grandpa Dan, and One-eyed Jack to those closest to him.
Dan was the youngest of Edmund and Althea's five children. He was a student athlete (cross country, track, and tennis) who thoroughly loved school. It led him to find his calling in teaching. He taught kindergarten through 12th grade. The final 15 years of his career as a homebound teacher. He worked exclusively with sick and injured students who could not attend school in person. When asked his favorite subject to teach and what the hardest subject to teach where he said they were one and the same – kindness. He said teaching children to love one another and have compassion for each other was the most important thing he taught. Into his retirement, former students were seeking him out because of the impact he had on their lives. He inspired several to go into teaching.
Dan's was a life of service. He was always helping others. If Dan Chambers saw a person in need, he was busy helping with the solution. He did as much of it anonymously as possible. There was a family that had to move quickly, and he showed up with new pans, dishes, and groceries for their new kitchen. When thanked for the generosity he passed it off as  " someone from church". That someone was him. That was always the way with Dan.
He worked tirelessly at Garden of Gethsemane wearing every hat he could. Maintenance, ground keeper, evangelism board, elder, treasurer, music director… When the church closed, Dan joined Good Shepherd and became indispensable there just as at Garden of Gethsemane. Along with his services to his church, he also served the Eastern Nebraska Office on Aging. He mowed lawns and shoveled snow for the elderly for more than a decade. If you knew Dan, chances are you also had a story of something he did for you. He was truly a friend to all.
Dan's love of sports led him to coach baseball, football, track, and soccer. He was the first soccer coach in Grand Island. He also was happy to umpire baseball, softball and referee soccer and basketball. He enjoyed going to games of every level; especially enjoying cross country meets and flag football. He enjoyed trips to see the New York Yankees and the Fighting Irish of Notre Dame. He even traveled to New York City for the Marathon.
Dan Chambers will certainly be remembered as a man who enjoyed the blessings the Lord gave him and passed them on to as many people as he could. Every good that he did, every kind word he offered, every hand he held he said he did because of the faith the Holy Spirit blessed him with. He was uncomfortable with thank yous and ALWAYS said "it is only through the Lord I have anything to offer." His life was truly a reflection of his faith in his kind and loving Savior. Everything he did, he did to glorify God.  "Well done, my good and faithful servant" Matthew 25:23
MEMORIAL SERVICE 1:00 PM Wednesday (9/14/2022) at Good Shepherd Lutheran Church, 5071 Center St., Omaha, NE
https://roedermortuary.com/wp-content/uploads/2022/09/Chambers.jpg
1110
605
Brian Roeder
https://roedermortuary.com/wp-content/uploads/2019/06/roeder_logo_white.png
Brian Roeder
2022-09-09 18:27:44
2022-09-09 18:46:51
Daniel Charles Chambers