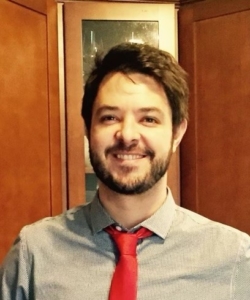 Elkhorn –
AJ Sandoval
March 24th, 1982 to May 17th, 2022
AJ Sandoval loved life, people, and God.
He was an accomplished song writer, guitar player, and singer. He was a natural performer who captivated listeners with his unique sound. He played blues, bluegrass, and rock with passion. As a songwriter, he poetically combined lyrics and music with imagination and beauty. AJ was part of a team who helped plant The Water's Edge Church 16 years ago. As worship leader, AJ led thousands of people. He played at hundreds of weddings and funerals over the years, celebrating with people in times of great joy and comforting people in their time of need.
AJ was a man of diverse interests. He was as skilled in the kitchen as he was with the guitar. His smoked meats and chicken wings were nothing short of amazing. He loved soccer and was the captain of his soccer team in college.  He continued playing as an adult and a was a longtime fan of the Liverpool and KC Sporting Football Clubs. He also was a walking Star Wars Encyclopedia who loved to put together Star Wars Lego sets.  He loved taking on new challenges like working on redoing a whole basement with his father and truly valued the moments they spent and conversations they shared while doing home repairs.  AJ was thoughtful and introspective and gave genuine, authentic feedback in conversation.
AJ worked at PayPal for the last 11 years. He found great value in serving clients and being part of a team. He developed meaningful relationships with co-workers and was grateful to work at PayPal. AJ was a practical joker and was a master of pulling pranks on friends and family. His laughter could light up a room.
AJ's favorite roles in life were husband and dad. He married Kristen on October 20th, 2007. It was a celebration full of love with friends, family and chicken wings.  Together they enjoyed music festivals, trips to see family, hiking, camping, game nights, and they knew how to celebrate Halloween like no others.  AJ's other love was his daughter Avery, born 4 ½ years ago. AJ loved being a dad. When he wasn't busy teaching her the ways of a lightsaber, he painted her nails, and cuddled during movie nights. They cheered on Liverpool together as a family.  Avery learned the value of good lawn care while riding on her daddy's shoulders while he mowed.  AJ strummed his guitar while Avery danced and bounced along to the rhythms.   Avery's giggles filled the room with joy when her daddy playfully tossed her and played chase.  That same playfulness will forever remain a treasured memory by each of his nieces and nephew as well.   It was a joy for him to generously provide and care for Kristen and Avery.
AJ is survived by Kristen and Avery as well as many family and friends. AJ's visitation will be Tuesday afternoon, May 24th, from 4:00 to 7:00. The Celebration of Life service will be Wednesday morning, May 25th, at 10:30 with a lunch to follow. Both events will be held at The Water's Edge Church, 19600 Harrison Street. The service will be streamed at www.youtube.com/weomaha.
In lieu of flowers, memorial gifts can be made to Avery's College Fund.
Roeder Mortuary, Inc. – Gretna Chapel
11710 Standing Stone – Gretna, NE
402-332-0090 www.RoederMortuary.com
https://roedermortuary.com/wp-content/uploads/2022/05/28229-Sandoval-1.jpg
489
408
Brian Roeder
https://roedermortuary.com/wp-content/uploads/2019/06/roeder_logo_white.png
Brian Roeder
2022-05-19 12:07:43
2022-05-24 23:03:56
Andrew J. Sandoval, (AJ)